Leroy Rosenior, left, seen here in action for West Ham, believes hateful views need to be challenged, otherwise 'they fester and grow'. Photograph: Colorsport/REX/Shutterstock
By The Guardian
In an exclusive book extract, the former Fulham, QPR and West Ham forward recalls the racism he faced in the 1980s, including being spat at by a schoolboy
I remember going to play at Leeds for Fulham in 1984. Playing there is never dull and on this occasion, the locals were in particularly boisterous mood. We got a throw-in down at the big Kop end that housed the fanatical home support. Paul Parker and I were closest and looked to get our attack back on track. As we got to the corner flag any thought of launching that attack went from our minds as we were met in the corner by thousands of fans with hate in their eyes, intent on unsettling these two young black footballers who had dared to come to their town to play a game of football.
Usually there were the monkey chants, the "ooh-ooh-ooh" noises that all black players had been subject to at the time. There were the chants about shooting niggers and the bananas that fell from the terraces of 1980s football stadiums – local greengrocers of that era owe us black footballers a fortune if you ask me – with increasing regularity. What happened was none of the above.
In 1976, David Bowie had returned to England and (presumably satirically) given the Nazi salute before exulting the virtues of Adolf Hitler. His supporters probably correctly argued that here was a showman who was playing to packed-out stadiums and with his own rock panache was ironically underlining just how easily the masses could be led. That day, in that hate-filled corner of Elland Road, the masses were not being ironic and they certainly weren't being satirical. Hatred was in their eyes, it was in their hearts and it showed just how deep the far right had sunk their dirty nails into the national game.
At least I could get some respite from such hatred every other week. Craven Cottage was an oasis away from the vicious chants.
That's why I had such sympathy for Paul Canoville at Chelsea. Paul would take the same sort of abuse that we all took away from home but then he would play at Stamford Bridge and so often he would hear the same things from some of his own supporters. I say supporters but Chelsea had fallen victim to National Front and Combat 18 groups who would leaflet the ground trying to recruit and for Canoville, life got that bit harder.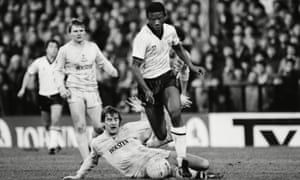 Paul Parker and I were shaken by what happened at Leeds, but it wasn't spoken about in the dressing room. That wasn't football's way. It came at a time when I was doubting my place in the game after being so harshly abused and I had to deal with it internally.
You didn't want to be seen as the victim. Had you gone to the manager or even to your team-mates you might be seen as a troublemaker, someone not focused on the team. It's only banter.
After it happened to me, I thought about how abusive opponents would pat themselves on the back, smugly chattingabout a job well done, on how they had mugged off a young striker and even somehow weakened me. I was adamant that I would pull my socks up, take the abuse on the chin and let the football do the talking. It was the only way.
Tony Finnigan, who played for Fulham, Crystal Palace and Blackburn in the 1980s, says: "I was young and angry and weren't having it. At Palace, Andy Gray was a bit addicted to the slot machines and we used to go to the Brixton Snooker Club after training. The thing is we didn't realise that everyone in there was Millwall. One day, the week of a game at The Den – the old Den! – a letter gets sent to the training ground, addressed to me and Andy. We open it and it says: 'If you step out on to that pitch on Saturday, you're both dead. We'll catch up with you in Brixton and you're dead.' Well, Jimmy Cannon showed it around to the coaches and they are all laughing. To them it's banter. They're all cracking up like children. So it's funny to them. It's a fucking death threat to us!
"On match day, we pack our kit bags and in it I'm putting in a machete-like thing from my mum's kitchen, and Andy has a big knife. You never know. We were expecting an ambush. Looking back what are they going to do? We got off the coach and we're in the dressing room. They were scary days. I would have used it, I promise you!
"I remember this skinhead giving me so much stick. 'You black cunt!' he's screaming. 'Black cunt? Look at your bird. She can't stop looking at me!' I said. Oh he went mad, while I'm laughing. 'I'm going to kill you!' he screamed. Brilliant. Back then you could have it with them. Today the linesman would be flagging and you'd be off."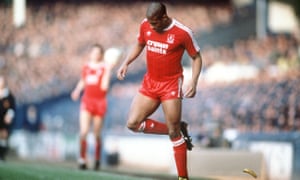 I'm not sure what our white team‑mates at the time made of the things they must have heard being said from the stands and from opponents alike. As I say, it was never really talked about. To them perhaps it was the same as stick that everyone got. A red-haired player was "a ginger cunt", a larger player was "a fat cunt", and so on and so forth.
Cyrille Regis, who played for West Bromwich Albion, Coventry, Aston Villa, Wolves, Wycombe and Chester from 1977 to 1996, says: "You'd hear that. You'd hear people saying that all sorts of people get abuse. But when it's about your skin, it's different to being ginger or fat. That argument doesn't stand up I'm afraid. Discrimination because of the colour of your skin has historical connotations as for centuries people felt superior to other people due only to the colour of their skin. The slave trade was based on such prejudices and so to suggest that redheads or overweight people have suffered the same is factually incorrect."
Henry VIII! England had a red-haired, overweight king once. Maybe one day when there is a black king, we can talk.
One Saturday we went to Portsmouth. We were walking from the pitch and I caught the eye of a boy, no older than 10, who was behind the fences. He was accompanied by an adult whom I presumed to be his father. As I got closer and walked past the fans, the boy spat at me, covering my red (actually it was pink as it had faded in the wash – money was tight at the time) Fulham away shirt with phlegm. I stopped in amazement. I couldn't believe what this kid had done. I said nothing. I was speechless and as I stood there, the adult with the boy began to laugh, then another fan laughed and then another until a group of human adults were all laughing because a child had spat at another human adult.
I froze in disbelief but my team-mate John Reeves, who was close by and had seen the incident, started to berate the fans, telling them what he thought of the kid and them. John's intentions were good but back in the dressing room when he asked if I was all right, I lost my rag.
"What about last week, John?" I asked. "What about last week when I was getting called a black cunt? How come you didn't ask if I was all right then?" John looked shocked, as did my other team-mates but I had a point to make. "What about when the banana was thrown, what about the Nazi salutes, how come you didn't support me then?"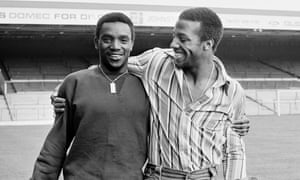 My point was that because the spitting incident had happened right in front of a team-mate, because it was visible and he had seen it directly, because it was isolated and based around just a few fans, he had reacted. The things that happened every week around our football stadiums were ignored by everyone. Out of sight, out of mind. Not that it was only the country's football stadiums. Karen and I now had Liam and as we walked London's supposedly multicultural streets, some people – black and white – would cross the road so as not to see this black man, his white wife and their brown child. Karen would tell me about the abuse she would get when walking to the shops with Liam from people objecting to the colour of her son. On our television screens, comedy shows such as Love Thy Neighbour and Mind Your Language laughed and poked fun at the otherness of non-whites living in England.
After Viv Anderson had made his debut for England in 1978 he was followed firstly by Laurie Cunningham and then, in 1982, by Cyrille Regis. Cyrille's inclusion for me was huge. A big, bustling, determined No9, he was everything I hoped to be and he did it all with a swagger that belied the abuse he received from racist fans.
Famously prior to making his England debut, he received a bullet in the post and a letter that read: "YOU'LL GET ONE OF THESE THROUGH YOUR KNEE IF YOU STEP ON OUR WEMBLEY TURF."
To think that some sad and lonely individual went to the bother of doing this should invite our pity but it screamed of the way many racist young men felt threatened by change. This was an act of fear from a man somehow taught along the way to be fearful of the likes of Cyrille. Big, powerful, confident, black and ready to turn white England upside down. He says: "The letter with the bullet came to West Brom's training ground and we had a good laugh about it. I wasn't intimidated at all. Why should I be? We all used to get loads of hate mail, especially Laurie because he had a white girlfriend. The guy who sent it was a coward, simple as that. Back then, if I had been getting abuse while out in London or Birmingham that would have been hard. If I had been getting beaten up or having my windows put in or my kids were abused, now, that would have been different.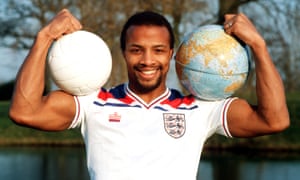 "That never happened though. No one ever fronted up to me. It all happened from a crowd, with that crowd mentality, or in envelopes. No one ever tried it on one-on-one. They wouldn't dare! It was confined to the stadium and we had armour to deal with it – our talent."
Cyrille was never going to be put off by such hate, and by playing for England he was challenging it. By playing he was helping to change the world. As he says: "We inspired the second and third generations. We early players were just the tip of the iceberg. That's why we are still talked about and written about. What stopped racism in my mind was that more and more teams soon had black players. If you have one in your side, it's hard to racially abuse the opposition's black players. That was a big factor, more and more black players getting into football."
Cyrille, Laurie, Viv, Brendon [Batson]; these guys paved the way for players such as myself but racism wasn't going away any time soon. Instead, we learned to deal with it and to cope with it. 'Ignore it, Leroy, it will go away.' I heard that a lot in my formative years as a professional footballer and to some degree that's what I did. The thing is, if you ignore it, it doesn't go away. If you ignore that sort of hatred, it cultivates it and it gets worse.
When hateful views aren't challenged they fester and they grow. Hatred must be challenged. That boy at Portsmouth didn't spit on white players and he wasn't born thinking it was OK to do it to black people. That boy had been taught to hate, as had the guy who sent Cyrille Regis a bullet.
'It's only banter' – The Autobiography of Leroy Rosenior – By Leroy Rosenior with Leo Moynihan is out now via Pitch Publishing. Order it here