Victoria Conteh spoke of her ambition to coach Sierra Leone during her trailblazing club managerial career
By Mohamed Fajah Barrie
BBC Sport Africa, Sierra Leone

The first woman to coach an elite men's football club in Sierra Leone has thanked national team boss John Keister after he funded a life-saving operation to amputate her leg.
Pioneer Victoria Conteh, who played in Sierra Leone's first ever women's international in 1994, also made history when appointed coach of men's top-flight side East End Tigers ahead of the 2019-20 season.
Described by Keister as "like a sister" and a "trusted lieutenant", the 48-year-old first began experiencing an issue with her left foot in July 2022, going on to lose a considerable amount of weight as a result of the gradually developing pain.
"It started like a boil on two of my toes and was itching," Conteh tells BBC Sport Africa.
"I didn't take it seriously until I started feeling pain."
It was Keister who first advised Conteh, who is also a policewoman, to see a doctor.
"I went to the police hospital in Freetown and was treated After some time, I started feeling pain again and it got severe for close to four months," she added.
"Seeing that I had lost weight and was deteriorating, John took me to a doctor. After the diagnosis, the doctor told us the reason for the pain was because my foot had been badly infected by a poison I stepped on.
"I don't know where and when it happened but it was really painful."
'He's like a brother to me'
Surgeons amputated Conteh's leg in November last year. Once again, Keister was involved, breaking news of the decision to operate.
"It was John who the doctor first told about how severe my condition was," says a tearful Conteh.
"The best thing to do to save my life was to amputate my leg.
"When John called me on the phone and told me about it, I nearly collapsed. I can't even explain how I felt at that moment
Sierra Leone men's national team head coach John Keister played a crucial role in Conteh seeking and receiving treatment on her left leg
"I was feeling pain inside. Even when my daughter brought me food, I wasn't able to eat.
"I didn't have the courage to break the news to her and my two sons. It was a sad moment for me.
"But it's the will of God, I have to accept it."
Keister says he funded Conteh's treatment because of the close bond the two have built up over the years.
"She's one of my trusted friends and a trusted lieutenant," says the 52-year-old, who guided Sierra Leone to the 2021 Africa Cup of Nations in Cameroon.
"She's like a sister to me. It was difficult to absorb the news and to break it to her after the doctor told me about the amputation. I cried."
Now learning to live with her disability, Conteh, who has also coached Sierra Leone's women at under-20 level, remains grateful to Keister for his emotional and financial support.
"He's a good man. We are close friends and he's like a brother to me," she says.
"I was down and frustrated, even after the successful operation. But with encouraging calls from people and prayers, I calmed down.
"I'm thankful to God that I'm still alive and I'm also grateful to coach Keister for paying for my surgery."
Part of a footballing family living in the capital Freetown, she developed her love of the game at an early age – against the wishes of her mother.
"My father, uncle and two cousins played football," she explains.
"I started playing football during my primary school days. I usually hid my boots from my mum.
"She was totally against it because there was the belief at the time that football was meant for the men and not the women.
"But my elder brother pleaded with my mum, to persuade her by reminding her that football was in me because I came from a football family and I was born and raised in a football community.
"So my mum gave me the green light. That is how I became a player."
Decades later, Conteh became the only female coach in Sierra Leone to hold a top-level A Licence issued by the Confederation of African Football before East End Tigers added to the list of firsts by appointing her as their manager in the National Premier League.
Sadly for Conteh, fate intervened when her first season in charge was curtailed by the coronavirus pandemic and she was subsequently ordered by her superiors with the police to take the reins with Police FC following their promotion to the top-flight in 2021.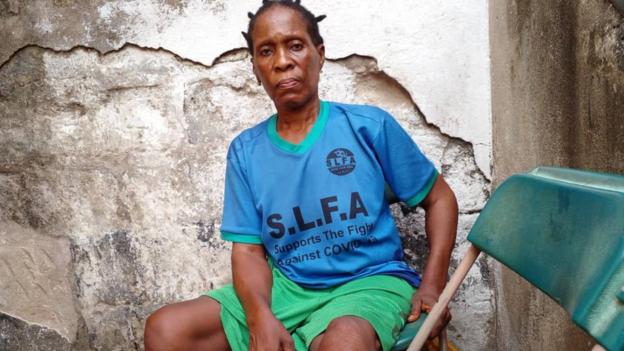 A new role in football
Conteh's ordeal has affected her "emotionally, physiologically and physically".
"Sometimes, when I sit and look at my amputated leg, I feel bad," she says.
"I don't go out frequently nowadays as I spend most of my time in my house.
"I won't be on the touchline anymore giving instructions to players and I'm not happy about it because I like my coaching job. Nevertheless, I'll now serve as a technical adviser."
Keister, too, is coming to terms with what has happened to his good friend and is pleased to hear she has no plans to give up football entirely.
"I'm missing her a lot because we used to be together all the time. But I'm glad that she's coping."